William P. Clements Digital Themebook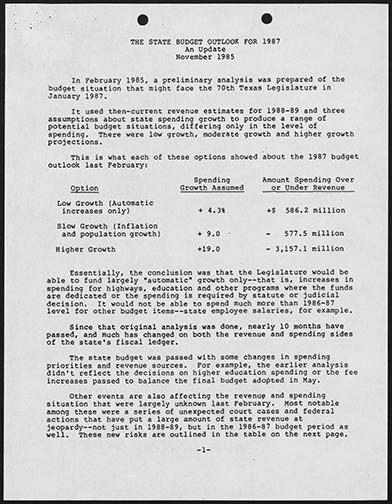 Report titled "The State Budget Outlook for 1987: An Update," November 1985, e_cle_000049.
Budget Battle of 1987
Clements took office for the second time in early 1987 after having campaigned on a pledge not to introduce new state taxes. It was a promise he would find difficult to keep. The Texas economy was struggling. Global oil prices had tumbled, slashing the state's most important revenue stream. Unemployment was at an all-time high. Faced with a looming budget deficit, Clements felt tremendous pressure, on one hand, to increase state funding for public education, and on the other, to hold the line on taxes. To keep the government functioning, the Texas Legislature needed to pass a budget before the fiscal year ended in August. Recognizing his campaign promise as untenable, Clements cautiously acquiesced to negotiations for a compromise budget bill in May of 1987, and called a special legislative session to hammer out the details. The session turned into an all-out partisan mêlée, lasting through most of the summer, from which neither side emerged unscathed. The resulting budget increased state taxes considerably, but avoided a state government shutdown. Politically bruised by his surrender on taxes and the simultaneous revelations of his involvement in a pay-for-play scandal at Southern Methodist University (see Ponygate Scandal), Governor Clements tried to make the best of a difficult situation. He insisted to the press that his veto threats had reduced by nearly $2 billion the budget originally proposed by Bill Hobby and the Democrats. The 1987 budget battle later came to be regarded as a moment of political courage for Clements, who forfeited a potential Republican triumph—and considerable political capital—to keep the state government running.