William P. Clements Digital Themebook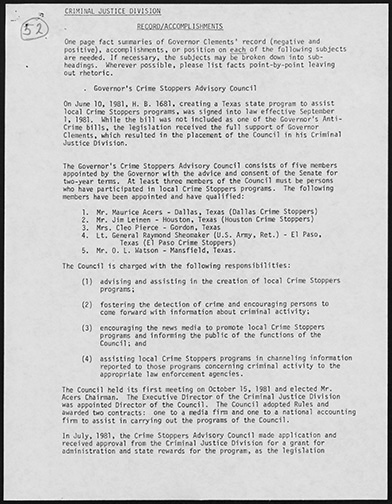 Document outlining accomplishments of the Criminal Justice Department, undated, e_cle_000584.
Criminal Justice Reform
Bill Clements swept into the Texas governorship in 1978 at the leading edge of the "Reagan Revolution," which promised to renew American confidence, strength abroad, and productivity at home. Like most Reagan-era conservatives, Clements was suspicious of anything that smacked of Great Society-style liberalism, including criminal justice laws that emphasized rehabilitation over punishment. Harsher sentencing guidelines for nonviolent drug offenses, a centerpiece of evolving "War on Drugs," led to a major increase in the number of people behind bars in Texas and across the country during the 1980s. In his first term, Clements advanced several criminal justice reform proposals, including state authorization for the use of electronic surveillance in drug cases, increased public funding for anti-drug education campaigns, and stronger enforcement of juvenile delinquency and drunk driving laws. In order to meet his campaign promises to reduce state expenditures, Clements vetoed over $250 million from the 1980 budget, including $30 million for the construction of new prisons. A 1980 consent decree in the ongoing Ruiz v. Estelle case regarding prison overcrowding (see below) forced Texas to begin housing prisoners in tents, and gave Democratic challenger Mark White an opening to criticize Clements' veto record during the 1982 gubernatorial election. Clements would repay the favor during their 1986 rematch, lambasting White for instituting an early release program for certain offenders in an effort to comply with the strictures of the Ruiz decision.
Early in his second term, Gov. Clements took a major step toward ending the protracted Ruiz litigation by meeting with the Attorney General Jim Mattox and Judge William Wayne Justice—the federal judge who had originally issued the consent decree—to negotiate a settlement. Texas would no longer fight the terms of the Ruiz decree. Instead, during his second term, Clements steadily modernized Texas' criminal justice system. In 1987, he convened a criminal justice task force to make recommendations for improving the state's overloaded courts and prisons. Under the leadership of Dallas businessman Charles Terrell, the Texas Criminal Justice Task Force proposed a number of reforms, including increasing mandatory minimum sentencing for certain crimes and adding capacity to the state's prison system. Clements adopted the group's recommendations as his own. To keep up with harsher sentencing laws while complying with the requirements of the Ruiz agreement, efforts to increase state prison capacity accelerated. During Clements' second term, an additional 10,000 beds were added to the system, and work was underway to build several more units in the early 1990s. Privately run pre-release facilities were also opened in 1989, paving the way for the creation of a for-profit prison industry.
`