William P. Clements Digital Themebook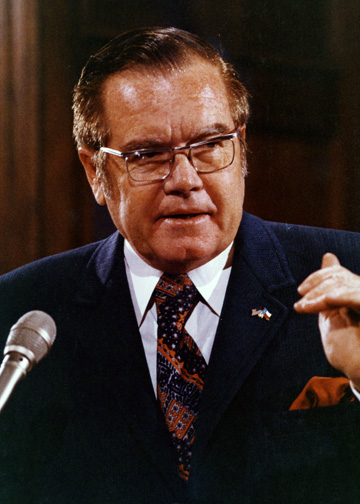 Governor Dolph Briscoe, Briscoe Center for American History, di_03922.
Dolph Briscoe (1923-2010)
A Texas rancher and Democrat, Dolph Briscoe served as the 41st Governor of Texas from 1973 to 1979. Gov. Briscoe came to office in the immediate aftermath of the Sharpstown stock-fraud scandal, in which a group of conservative Texas Democratic officials accepted indirect bribes from Houston-area developer Frank Sharp in exchange for favorable legislation. Known chiefly as an incremental reformer, Gov. Briscoe ran for a third term in 1978, but was defeated in the Democratic primary by then-Attorney General John Hill. Briscoe pointedly declined to back his fellow Democrat's gubernatorial bid, a move widely seen as a tacit endorsement of Clements' candidacy.