William P. Clements Digital Themebook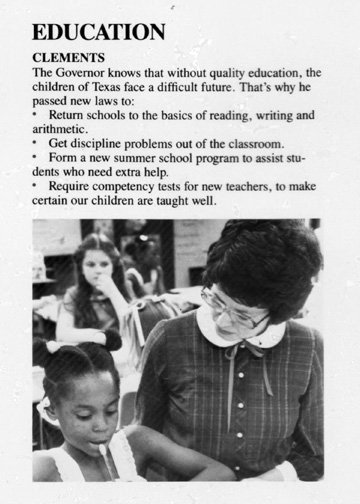 Political advertisement: "What others say about Governor Bill Clements", page 2, detail from e_cle_000537.
Education Reform
In 1978, Bill Clements came to office intent on improving and streamlining the state's education system. At the time, public education in Texas comprised a rickety hodge-podge of instructional practices and funding systems, and was rife with wealth-based inequality. Clements created an education task force to report and make recommendations on addressing the inconsistencies and weaknesses of public education in Texas. In 1981, the findings of Clements' task force became the basis for a series of proposed reforms, including the reduction of state-mandated requirements, empowerment of local school boards to address discipline problems, and merit-based teacher pay increases. None of these initiatives made it out of committee in the Texas legislature—casualties of a powerful constellation of political interests.
But Texas public schools remained desperately in need of reform. After beating Clements in the 1982 gubernatorial race, incoming governor Mark White turned to H. Ross Perot—a Clements ally—to lead a focused effort to transform the state's public education system. Perot engineered the passage of a comprehensive slate of education reforms, including teacher tests and merit pay, district equalization, and the controversial "no-pass, no-play" rule, under which Texas students were required to maintain passing grades in all their courses in order to participate in sports and other extracurricular activities. In 1984, the Texas legislature passed the landmark schools package, known as House Bill 72.
Although the reforms represented a substantial legislative achievement, the "no-pass, no-play" rule bore bitter political fruit for Mark White, whom high school football coaches and boosters blamed for ruining the state's beloved Friday Night Lights. The matter even made its way to the Texas Supreme Court, which upheld the law's constitutionality. High school football in Texas survived "no-pass, no-play" of course, and the law remains in place today. But the residual rancor over the measure gave Bill Clements a helpful boost during his 1986 campaign to win back the governorship.