William P. Clements Digital Themebook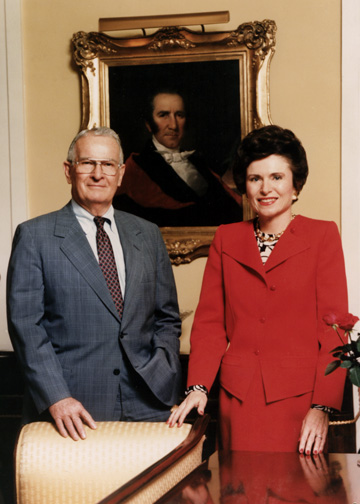 Governor and First Lady Bill and Rita Clements, e_cle_013462.
Historic Preservation
Bill Clements was intensely proud of his heritage. Like so many Texans, Clements regarded his state as something more meaningful and profound than a mere territory on a map. Texas was a way of life, imbued with its own unique history and culture. As Governor, Clements regarded himself as a steward of that legacy. When he and Rita moved into the Texas Governor's Mansion to start his first term in 1978, they were shocked by the structure's decrepitude. Having already renovated an historic building in Dallas to serve as SEDCO's headquarters, Clements convinced the legislature to fund the restoration of the mansion. The first couple lived in an apartment for the duration of the nearly two-year restoration project. Under Rita's leadership, the non-profit Friends of the Governor's Mansion raised the funds to acquire period furnishings and artwork for the residence.
The Clements' commitment to historic preservation continued in Governor Clements' second term. Proud of what he and Rita had accomplished with the Governor's Mansion during his first term, Clements set his sights on restoring the outdated and overcrowded Texas Capitol Building. The renovation plans included the construction of a vast, sky-lit underground annex to the building to serve as office space for House members and staff. Construction started after Clements left office in 1990, but the hard work of funding and bidding the project had already been done. After leaving office, Bill and Rita Clements later helped raise money for the building's interior and a maintenance endowment. Through these two major historic preservation projects, Bill and Rita Clements left a bricks-and-mortar testament of their dedication to preserving the history of Texas.