William P. Clements Digital Themebook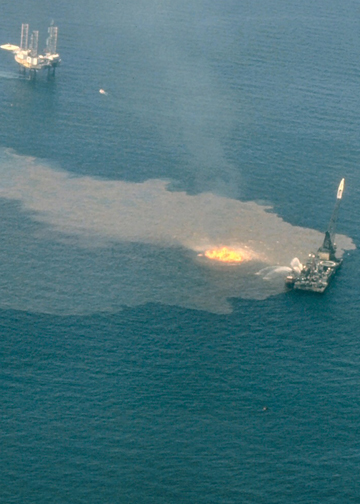 Ixtoc I oil well, National Oceanic and Atmospheric Administration.
Ixtoc I oil spill
Ixtoc I was an exploratory oil well operated on behalf of Mexico's national petroleum company, Petroleos Mexicanos (PEMEX). The well was being drilled by a SEDCO-owned rig, which suffered a catastrophic blowout on June 3, 1979, causing one of the largest oil spills in history. After touring Texas beaches near Port Aransas in August of that year, Governor Clements downplayed reports of the spill's potential impact on his state as "a big to-do about nothing." But when oil slicks washed up on the Texas coast two weeks later—devastating local economies reliant on beach tourism—the public quickly turned on Clements. The Governor was questioned constantly as to whether his relationship with SEDCO was guiding his seemingly passive response to the spill—a charged he vehemently denied. In a move seemingly calculated to further provoke Clements, Mark White (then serving as Texas Attorney General) criticized what he characterized as an anemic response by the state, and threatened to sue the country of Mexico for property damage. Incensed, Clements publicly accused White of overstepping his authority, setting the stage for a bitter 1982 gubernatorial race between the two men. The Ixtoc I well was finally capped in March of 1980 after spilling an estimated 3 million barrels of crude oil into the Gulf of Mexico.