William P. Clements Digital Themebook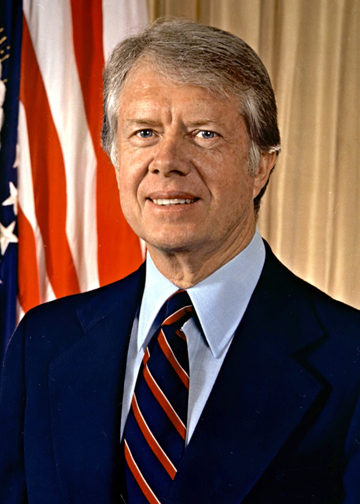 James Earl "Jimmy" Carter, courtesy National Archives and Records Administration, ARC 558522.
Jimmy Carter (1924- )
James "Jimmy" Carter is an American politician, former governor of the state of Georgia, and the 39th President of the United States. Carter's policies—particularly regarding energy—became a symbolic and political bête noir for William Clements during his run for governor in 1978. Appearing together with John Hill at a chamber of commerce luncheon in Amarillo during the 1978 campaign, Clements described Carter as a "dead chicken around [Hill's] neck." He pulled a rubber chicken out of a bag and attempted to throw it in Hill's direction. The errant chicken landed instead in the lap of the wife of the mayor of Amarillo. The "dead chicken incident" became one of Bill Clements' more memorable gaffes on the campaign trail.