William P. Clements Digital Themebook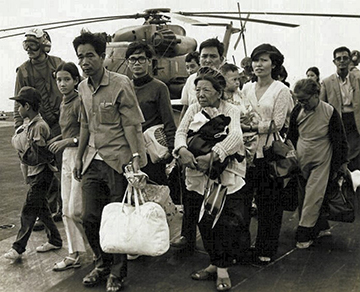 Photo courtesy US Marine Corps. .
Refugee Resettlement
Over the course of Gov. William Clements' two terms in office, Texas resettled a large number of refugees within its borders, many of whom hailed from Cuba, Haiti and Vietnam. Most came as a result of federal policy, which apportioned refugees to individual states for resettlement. In Texas, secondary migration (the movement of refugees after their initial resettlement) brought additional refugees to the state seeking proximity to previously settled countrymen. The introduction of new social groups, with distinct ethnicities, nationalities, cultures and languages, sometimes proved disruptive to existing social systems and ecologies, particularly in rural areas. Those disruptions, in turn, became political headaches for state officials like Gov. Clements.
In the mid-1970s, the federal government resettled a significant number of Vietnamese families to small communities along the Galveston Bay. Conflicts arose between newcomers and locals, both of whom depended on shrimping for their livelihood. Over time, Texas shrimping were imbricated in a complex system of laws and unwritten codes governing navigation and access to shrimp fisheries. Unaware of these codes, Vietnamese refugees soon infringed upon them. The Anglo fishing communities of Seabrook and Seadrift were also angered by the perception that refugees were unfairly receiving government benefits. Racial animosity and language barriers helped crystalize the growing distrust on both sides, and eventually led to the shooting death of an Anglo fisherman in August of 1979, for which two Vietnamese fisherman were tried and acquitted.
In 1981, sensing opportunity in the acquittals and continued racial tension, the Knights of the Ku Klux Klan joined local Anglo fishermen in a campaign of intimidation against the Vietnamese refugees. And although he had little power to solve the problem on his own, Clements nevertheless found his administration embroiled in a larger conflict over race, environmental justice and federal refugee policy. Although Clements did not necessarily welcome the settlement of refugees in Texas, he accepted the necessity of the US refugee resettlement program, and defended it against those who argued for the wholesale expulsion of Vietnamese refugees from the state. Clements' decisive intervention helped to calm, and to quarantine, a potentially explosive situation. Ultimately, the Southern Poverty Law Center brought suit against the Klan, securing a federal restraining order against further Klan activity in the area, and effectively ending the conflict.