William P. Clements Digital Themebook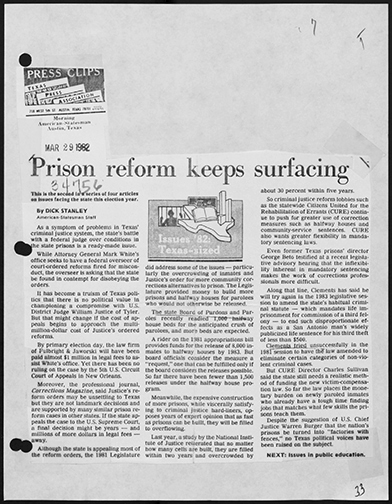 Newspaper clipping headlined:"Prison reform keeps surfacing", March 29, 1982, e_cle_000505.
Ruiz v. Estelle
In 1972, inmate David Resendes Ruiz filed a lawsuit against the Texas Department of Corrections (TDC) and its Director, W.J. Estelle, alleging that the conditions of his imprisonment constituted cruel and unusual punishment under the Eighth Amendment. Ruiz' petition would ultimately become the longest-running prisoner lawsuit in American history. In 1979, the United States district court judge for East Texas, William Wayne Justice, ruled in the plaintiff's favor and placed the entire state prison system under federal oversight until the Texas Department of Corrections reduced overcrowding, improved inmate medical care, and increased the number of prison guards. That same year, Governor Clements vetoed $30 million earmarked for prison construction from the 1980 budget, forcing the Department of Corrections to house some prisoners in tents. The state's first grudging efforts at compliance with Judge Justice's decree included early release for good behavior and severely limiting prisoner transfers from county jails. These measures failed to satisfy the terms of the ruling even as they drove up rates of recidivism. Texas counties also successfully sued the state for compensation of the millions of dollars spent housing prisoners that would normally have been transferred to the state penal system. During Governor Clements' second term, Texas embarked on a decades-long prison construction effort to increase capacity and end the Ruiz litigation. A final judgment in the case was not issued until 2002 however, and litigation aimed at improving the treatment of Texas prisoners still continues today.