William P. Clements Digital Themebook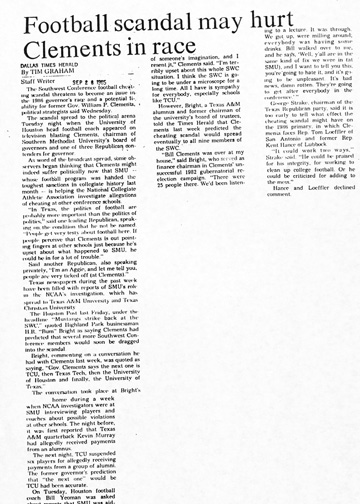 Newspaper clipping headlined, "Football scandal may hurt Clements in race," September 26, 1985, e_cle_001035.
Southern Methodist University and "Ponygate"
After losing to Mark White in 1982, Bill Clements returned to Dallas and private life. He became the chairman of the Southern Methodist University board of governors in 1984. SMU's football program was paying players at the time, and had been since at least the mid-1970s, which was a serious violation of NCAA rules. The pay-offs helped SMU sustain a run of competitive years in the early 1980s, although the program was constantly under NCAA scrutiny. In 1986, mere days after Clements had won election to the governorship, the Dallas ABC affiliate WFAA-TV aired an investigative report revealing the existence of a slush fund used to pay SMU football players with the full knowledge of the school's athletic department and administration—including William Clements. In March of 1987, Governor Clements admitted that he had been aware of the payments since 1984, and apologized for his role in the scheme. He had intended, he said, to phase out the program while honoring the (illegal) monetary promises the football program had made to earlier recruits. The revelations led to calls for Clements' impeachment under the logic that he never would have won had the scandal been public knowledge during the campaign. After weathering the initial political storm surrounding the "Ponygate" revelations, Clements went on to a successful and productive second term. Nevertheless, his political legacy was permanently shaped by the scandal.