William P. Clements Digital Themebook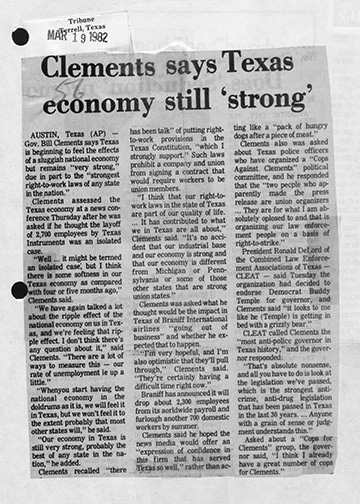 Newspaper clipping headlined, "Clements says Texas economy still 'strong,'" March 19, 1982, e_cle_000429.
The Texas Economy
As with most publicly elected executives, Bill Clements' political fortunes rose and fell with the state's economy. When he came to office in 1978, Clements inherited an economy still largely defined by energy and agriculture. As a businessman, Clements was impatient to set a long-term economic agenda for his state—one that would lead to a more diversified and stable economy. That agenda took shape as Texas 2000—an in-depth, publicly-financed study examining the state's changing demographics, resources, and economic trends. The Texas 2000 report highlighted the state's growing financial ties with Mexico and identified the high-tech sector as the key to Texas' future. Governor Clements took the report's findings to heart, devoting considerable effort and resources to attracting high-tech firms and investment to Texas.
But if technology was the future, the continuing importance of oil to the Texas economy—and thus to Texas politics—was brought home yet again during the 1986 election. With oil prices at a record low, Clements turned the state's loss of oil tax revenue into an effective political cudgel against his nemesis Mark White. In his second term, Governor Clements continued to emphasize economic diversification for his state. He personally lobbied national business leaders to invest in Texas, and handpicked the lobbying team—including Karl Rove—responsible for bringing the Superconducting Super Collider project to the state. (The project was cancelled in 1993.) At the same time, Rita Clements led a state-sponsored effort to promote Texas tourism with the tongue-in-cheek slogan "Texas. It's like a whole other country." Together with municipalities and industry groups, the Clements administration helped to gradually reshape the state's economy. By the end of Governor Clements' second term, the Texas economy was more diverse and robust than it had ever been.